Kotel Tunnels Tour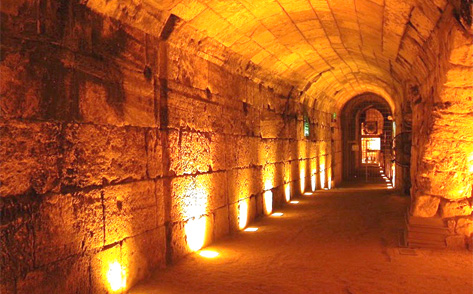 期間: 3 時間 (約)
製品コード: Kotel Tunnels
PLEASE NOTE - Sunday tours during August may include a tour of the Jewish Quarter instead of the Southern Wall Excavations.
What you will see on our tour:
Kotel Tunnels
Everyone has heard of the Kotel or Western Wall. But what you may not know is that the Kotel that we see today is only a small fraction of the Kotel which is exposed. The Kotel Tunnels take you on a walk underneath the Old City of Jerusalem along the rest of the Kotel which cannot be seen from above ground. This includes the part of the Kotel which is directly opposite the Holy of Holies from the Temple! Many participants tell us that this was the highlight of their trip to Israel!
Southern Wall Excavations
With our tour you also get a tour of the Southern Wall excavations (Davidson Center). Here you will be able to walk on the original street from the time that the Holy Temple stood. You will see the fallen stones from the destruction of Jerusalem.
PLEASE NOTE-:
The administration of the Western Wall Tunnels requires all guests to dress modestly. No bare shoulders, knees must be covered and a modest neckline.
Cancellations up to 3 business days prior to the tour will be refunded 75%. No refunds will be issued within 48 hours prior to the tour.
The price of the tour doesn't include a tip for the tour guide.
What to bring:
*1 bottle of water per person
*Sun hat & sunblock
*Sturdy walking shoes
The length of the tour is between three and three and half hours depending on the size of the group.
Meeting location varies according to the season, please contact Artzeinu to confirm meeting place. If you are unable to find your tour please call 0522 40 90 30.
From 24 hours before the tour you should call the office in Israel on 02-587-1718 to book, or if it is less than 14 hours before the tour: 0522-40-90-30.